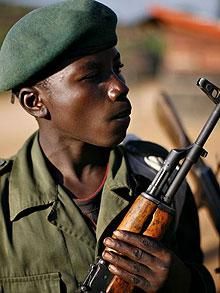 By Mike Pflanz in Nairobi
Last Updated: 10:33PM GMT 11 Dec 2008 Source : Telegraph.co.uk

Rwanda's army and government helped recruit fighters, including children, to support the Democratic Republic of Congo's rebel leader Laurent Nkunda, a high-level United Nations panel has claimed.

The panel's draft report contradicts repeated denials by Rwanda's President Paul Kagame that his government has supported the Tutsi-led rebellion in neighbouring DR Congo in any way.
The report was drawn up by the panel of experts established to investigate breaches of an international arms embargo against Congo.
Among its findings were claims that 150 Rwandans, including 29 children, were repatriated to their home country between Jan 2007 and Oct 2008 by the UN's mission in Congo.
Most had been recruited in Rwanda and most had fought or served in Mr Nkunda's National Congress for the Liberation of the People (CNDP), the rebel army whose recent advances have forced 250,000 Congolese civilians to flee their homes.
"According to the debriefing of a dozen of these recruits, there have been incidents indicating complicity by the Rwandan authorities in their recruitment," the draft report said.
It also stated that Rwanda had supplied military equipment to Mr Nkunda's forces and allowed his movement to deposit money in Rwandan banks.
A source close to the panel of experts told The Daily Telegraph that the report presented some "inconvenient truths" to UN member states including Britain.
"It will be interesting to see how they act," the source said.
The UN Security Council, which will debate the report on Monday, can decide to place individuals alleged to have broken the arms embargo on targeted sanctions lists.
Rwanda's foreign minister, Rosemary Museminali, on Thursday again denied that her government, which has received more than £525 million of British aid over the last five years, the largest per capita amount in Africa, supported the Congolese rebel leader.